The Experienced Stucco Installation and Repair - EIFS Contractor in New Jersey

WHAT IS THE BENEFIT TO YOU?
Should I use EIFS or Stucco for my home or building?
Before we can talk about whether EIFS (synthetic Stucco) or Stucco should be used we need to know exactly what each one is.
Stucco Siding, Traditional Stucco, Plaster
Stucco, traditional stucco, or plaster has been around for thousands of years. Stucco has been used for smoothing the surfaces where rough stone or damaged brick is present to give the building or object an orderly and attractive look. Stucco has been used in the interior of buildings and homes to do the same or for creating a surface for paintings like frescos and other artwork. Plastering also helps to shield or protect the material underneath from the elements giving longevity to your home or building. Stucco has been used to repair the existing surface by going over it, though, there are some exceptions, and if the surface is prepared properly it will be a long lasting solution rather than having to completely demolish the existing siding or wall which would be more costly. Today we have CMU (cement masonry units) blocks, wood framing and sheathing either made of plywood or dens glass, and of course brick.
Stucco or plaster, cannot just be applied to wood or non cementitous surfaces without some preparation. A weather barrier either made of a double layer of 15 # felt, Tyvek, or liquid applied damp proofing is attached or applied to the substrate, i.e. sheathing . Then galvanized wire mesh is then attached to the wall either by screws, hit anchors, or some other type of anchor depending on the surface you have. This well secured lath is then used to hold the stucco applied to the wall.
Stucco, in modern times, is mixed in proportions with sand, Portland cement, lime, and water. To reduce cracking, a binder can be added such as a small amount of glass fibers made specifically for stucco applications. You can even use stucco systems manufactured specifically to take out the worry of properly mixing dry materials, such as Dryvit, Synergy, Sto, Total Wall, Parex, and many more for additional cost. Talk to your stucco contractor for more information.
The thickness of stucco that is applied can vary depending on the surface conditions, type of material being applied to, desired longer durability which will require a thicker application of stucco. Typically the overall thickness is 1/2 inch to 5/8 inch, and can be more or less depending on conditions and desire of the owner. At this thickness the stucco is applied in 2 coats, first is a scratch coat, and the second coat is a plaster coat.

Stucco and plaster finishing has been applied with various toweling techniques to get various textured looks and has earned the name of traditional stucco to separate it from synthetic stucco, or E.I.F.S. (Exterior Insulated and Finish System). Stucco is also applied in a smooth coat or what the industry calls hard coat stucco. The stucco can have color pigmented additives mixed in to get a color that you desire, or rather than adding a pigment, the stucco is coated with an elastomeric coating or elastomeric paint that is either smooth or has sand of various sizes to give a texture. The benefits of using elastomeric paint is that it does bridge the small hairline cracks that tend to form on the surface. Traditional paint or masonry paint does not have the elastomeric properties to stretch as the hairline cracks expand and contract with weather conditions. Additionally, it acts as a primary water barrier for added protection in addition to the damp proofing placed behind the stucco.
EIFS, E.I.F.S., Exterior Insulation and Finishing System, Synthetic Stucco, EIFS Siding
E.I.F.S (EIFS) is short for Exterior Insulation and Finishing System and is a type of cladding used on buildings and homes. The origins of EIFS go back to Europe after World War II came to an end, and there was a need to repair and refit buildings that had been damaged. Later on in the 1960's EIFS started to become noticed in U.S. modern construction where framing with wood or metal studs are being used with sheathing made of either wood, plywood, or some type of exterior gypsum board. EIFS offered a more cost effective and quicker alternative to brick or stone for this type of construction. EIFS also allows for a better building insulation R- value, or eliminate insulation from the inside wall of the building which gives more options for the interior design.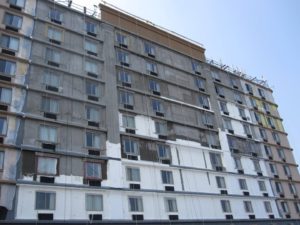 The original synthetic stucco (EIFS) was called a barrier system and is made up of EPS insulation of varying thickness. It can be attached by screws with specially shaped plastic washers that grab the insulation over a larger area or can be attached by coating or "buttering" the back of the EPS insulation board with a cementitous adhesive made specifically for the insulation and placing it to the surface. However issues have surfaced over the years with water getting behind the EIFS, so now manufacturers have employed EIFS drainage systems, or EIFS water management systems.
These new systems vary in design but function similarly in that they all try to migrate any water to the outside that may get behind the insulation to prevent deterioration of the wood or gypsum board. In addition, EIFS drainage systems help with the issue of water expanding as it freezes since it may eventually push the insulation out or damage the surface allowing for more water to find its way behind. Flashing pieces are installed at the bottom that allow the water to exit from behind along with damp proofing either of a Tyvek type material or a liquid applied membrane to prevent water from absorbing into the surface behind the insulation. Additionally, the insulation (EPS) board if "buttered" with cement adhesive, is applied with a notched trowel to allow water to travel down the clear channel ways created when applied to the cured liquid applied membrane.
The EIFS siding boards are staggered when placed on the sidings sub-surface so that a seam line doesn't run down in a continuously vertical straight line. the insulation panels are then rubbed with a rasping tool to make the surface flush from insulation board to insulation board which creates a smooth surface. The insulation is then coated with fiberglass mesh and base coat of cement specifically made for covering the EPS boards. If additional durability is desired to resist damage do to being hit then two layers are applied with the first layer of heavy fiber glass mesh and base coat followed by standard fiberglass mesh and base coat. Finally the surface is coated with an elastomeric or acrylic texture coat to seal the surface and give you the desired look. All penetrations are then sealed with a compatible caulk.
Before and After - Residential Stucco Repair
The Pro's and Con's of Stucco Siding
What are the benefits of Stucco Siding?
First stucco siding  has superior durability to the elements with regards to erosion, water, wind, and  freeze thaw cycles assuming the substrate is adequately prepared.  Plus cement stucco impact resistance is excellent unless you happen to drive your car into it.
Preventative maintenance and stucco repair costs are low compared to other types of siding
Stucco has its own natural insulation properties unlike that old vinyl or wood siding.
Lower installation cost for the typical installation
Various troweled textured finishes for that traditional look or smooth finish for a more modern look.
Can be sealed with elastomeric coating to give an even textured look while  at the same time act as barrier to the elements for longer life.  Color options are virtually unlimited compared to pigmented traditional stucco.
Can add ornamental detail trims made of EPS insulation on top of the smooth hardcoat.  This trim is installed similarly to EIFS except the substrate is the newly installed stucco.
What are the down sides of Stucco Siding?
Not everyone likes their home sided with a troweled stucco look.
Color mixed in the cement stucco is usually limited for onsite mixing unless a custom color is ordered from a manufacturers product line.  The Color though durable is subject to a small amount of fading over the years.  The installed color is subject to varying slightly depending on environmental conditions and the amount of water added when mixing which means the stucco contractors experience is key to avoid these issues.
Stucco Cement is subject to efflorescence is where white staining or chalk build up occurs on the surface.  Elastomeric coatings prevent this.
Does need infrequent cleaning over time since it will accumulate dirt like most siding products.  If you have an elevation  where sunlight only hits for a few hours a day, dirt, algae and fungal  growth will be more of an issue and require more frequent cleaning.  Fortunately this is an aesthetics issue, and not an issue with integrity of the siding itself however it is recommended that elevations like this get an elastomeric color coat to reduce this build up.
Subject to how thick the stucco can be if the framing of the home or building is not adequate to support the extra weight beyond the standard 1/2" to 5/8" thickness.
The Pro's and Con's of EIFS Siding with Water Management Systems
What are the benefits of EIFS Siding?
EIFS insulation value is superior to that of cement stucco siding and the thickness of the insulation can be varied to meet your insulation needs or to supplement interior wall insulation for those older homes.
EIFS water management /drainage management systems virtually eliminate past issues with water getting behind the insulation and causing rotting of wood or rusting steel.
The level of ornamental detail is virtually unlimited which can turn your home or building from something plain to something that is jaw dropping which is limited in cement stucco applications with some exception.
Elastomeric or acrylic textured finishes applied to stucco can be applied to EIFS systems for long lasting color durability and textured look to meet your taste.
What are the down sides of EIFS Siding?
Your EIFS siding needs to be inspected at least every three years either by yourself or preferably by someone who has a trained eye on what to look for.
All penetrations need to be sealed with a compatible caulk or sealant, not all caulks are compatible and will not hold over time.  Additionally how the caulking is installed on the EIFS will determine the longevity of the caulking joint and of course the EIFS siding itself.
Proper installation is key for EIFS water management system to work properly.  Short cuts, or inexperienced installers can greatly reduce the longevity of your new siding and result in costly repairs.
Increased costs for detailed trim and installation of water management systems since there are more steps add to the process.
Durability is an issue and can lead to more frequent EIFS repairs compared to cement stucco siding.  A common call we have received for EIFS repairs is that woodpeckers have damaged the homes siding.   EIFS siding can only take so much force before the top layer of cement and fiberglass mesh break.  You can increase the strength by adding a second layer of heavier fiberglass mesh and base coat to reduce your chances of a repair but you will also increase the installation cost as well.
New Stucco
Brickface Stucco
Cement Stucco
Original Stucco
Traditional Stucco
Textured Stucco
Hard Coat Stucco
Stucco Systems
Stucco Repairs
Stucco Sealing
Stucco Cleaning
Stucco Coatings
Thin Brick
Brick Repair
Brick Pointing
Tuck pointing
Lintel Repairs
Masonry Repair
Masonry restoration
Masonry Cleaning
Window Sill Repairs
Stone Patching Repairs
Window Sill Replacement
Window Perimeter Metal Capping
Stucco Trim Molding Installation
Facade Repairs
Facade Coating
Facade Restoration
Facade Cleaning
Chemical Cleaning
Power Washing
Stucco with Acrylic Texture coating
Culture Stone
Stone veneer
Simulated Stone Veneer
Stone Veneer Systems
Metal Copping Caps in Standard Firestone colors

New Cavity wall waterproofing and Insulation

Exterior Window Caulking

Exterior Control Joint Caulking

Exterior Step repairs

Step Tread Repairs

Stoop Repairs and coatings

General EIFS (Exterior Insulation Finish Systems) Repairs

New EIFS Installation

EIFS Water Management Systems - Certified
Certified Applicators of Exterior Insulation & Finish Systems (EIFS)
 Brickfacing
Original Stucco/Hardcoat Systems
Cultured Stone
Chemical Cleaning/ Power Washing
Building Restoration and Waterproofing
Masonry Sealing and Coatings
Parapet Wall Repairs
Cement Copings
Deck Waterproofing and Coatings
Balcony Restoration
EIFS Repairs due to substantial bird damage

EIFS Surface Renewal

Replace EIFS Facades

New Vinyl Siding

Vapor Barrier Installation

Skid Proof walking Surfaces

Balcony Repairs

Balcony Waterproofing

New Exterior Foundation waterproofing

Financing Options Available
Bergen County, NJ
Hudson County, NJ
Essex County, NJ
Passaic County, NJ
Morris County, NJ
Union County, NJ
Somerset County, NJ
Middlesex County, NJ
Mercer County, NJ
Monmouth County, NJ
Ocean County, NJ
Hunterdon County, NJ
Warren County, NJ
Sussex County, NJ
Camden County, NJ
and most of Burlington County, NJ...
Also serving Richmond County New York and beyond...
Contact us today if you're curious if we serve your area.
"Newport Centre Mall has used Anchor Stone and Stucco for many projects in the past couple of years. They have performed a extensive E.I.F.S. restoration on the West side of our building. They also have done two concrete repair jobs since 2011. Currently they are working on a building coating project for our 18th St. property facade. I involve them in any project RFP I can. John Glynn is professional, to the point, and reliable. I trust his opinion and his work. Anyone that would like to discuss further can reach out to me to discuss."
– Robert G. Langton, Director of Operations/Facilities, Newport Centre
"We have been subcontracting Anchor Stone and Stucco for years. The work they do for us is outstanding and their customer service is excellent. John is very reliable, quickly completes all jobs and meets every deadline. Anchor Stone and Stucco is constructed of highly skilled professionals that care about the customer. We highly recommend Anchor Stone and Stucco for all of your stone and stucco needs."
– Todd Vignola, Add-Ventures Building Services
Thank you for visiting Anchor Stone and Stucco! We are the experts in stucco and stone exteriors! Service, quality, dependability, experienced…these are characteristics that define Anchor Stone and Stucco.
201 Wescott Drive Rahway, NJ 07065
Bus: 848-467-4196
Fax: 848-467-4273
NJ Contractor License #13VH01371500
Business Hours
Mon. - Friday
8 A.M. to 5 P.M.
CALL TODAY FOR A FREE AND ACCURATE QUOTE!